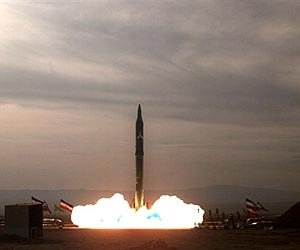 Iran denies plans to develop US-hitting missilesTehran (AFP) April 21, 2010 - Iranian Defence Minister Ahmad Vahidi denied on Wednesday the Islamic republic is planning to develop ballistic missiles capable of striking arch-foe the United States, as alleged by Washington. "We have no such plans," Vahidi told the official IRNA news agency, describing the allegations as "part of the enemy's psychological warfare." Vahidi was reacting to Tuesday comments by a senior US official James Miller, principal deputy undersecretary of defence for policy, who told a senate hearing Iran could by 2015 develop missiles that could strike the US.

Miller added that his assessment assumed "foreign assistance" to enable Iran to improve its missile technology. A report last year from the US Air Force National Air and Space Intelligence Centre had postulated that Iran could build an intercontinental ballistic missile that could hit US soil by 2015-2018, if it received outside help. Analysts say Iran's Safir (Ambassador) space launch vehicle, which Tehran put into orbit in February 2009, has the potential to be converted into a long-range missile.

Vahidi, however, said Wednesday Iran was producing an air defence system equipped with aerial radar, and a domestically produced missile having a range of 40 kilometres (25 miles) and an altitude of 20 kilometres. Washington closely follows Iran's missile programme and has cited threats from Tehran and North Korea as the main impetus for building missile defence systems for the United States and its allies. The US administration also accuses Tehran of a clandestine effort to build nuclear weapons. Iran vehemently denies this.
An unclassified U.S. Defense Department report says that Iran may build missiles capable of striking the United States by 2015. "With sufficient foreign assistance, Iran could probably develop and test an intercontinental ballistic missile capable of reaching the United States by 2015," said the report, leaked to national media and reported by

Israel's

Arutz Sheva news agency.
The report added that "Iran's nuclear program and its willingness to keep open the possibility to develop nuclear weapons is a central part of its deterrent strategy."
It wasn't immediately clear whether a classified copy of the report, which was submitted to Congress, included details about

Iran's

nuclear capabilities also.
Still, the report appeared to heighten fears of the Islamic republic's strike capabilities despite a May 2009 U.S. National Intelligence Estimate suggesting that Tehran was unlikely to have ICBMs by 2020.
Tehran launched an arms development program 30 years ago, in the wake of a U.S. weapons embargo. As of 1992, it has produced its own tanks, armored personnel carriers, missiles and fighter aircraft.
Iranian officials have long argued that the country's military and arms programs were intended for defensive purposes and should not be perceived as a threat to any other country.
Israel, however, has heightened worries about Iran because of Tehran's controversial nuclear program, missiles and repeated threats against the Jewish state. Officials in Israel have suggested that it could launch pre-emptive strikes against Iranian nuclear sites if it is shown that Tehran is developing nuclear weapons. It has repeatedly urged the United States to take action against Iran.
Speaking at a forum at Columbia University, U.S. Navy Adm. Michael Mullen said that a U.S. strike on Iran would go "a long way toward delaying the country's nuclear program."
He said the strike was considered a "last option," to ongoing diplomacy, stressing that contingency military plans had also been charted.
Despite the threat by U.S. Defense Department experts, the leaked report stated that the United States and its "well-trained, sophisticated military" could easily face down Iran in the event of armed conflict.
It also noted Iran's support for insurgents in Iraq and Afghanistan despite pledges to the contrary by Tehran.
In recent months,

Russia

has come under strong U.S. pressure to scrap plans to deliver S-300 surface-to-air missile systems to Iran. The fear is that the systems may be reverse-engineered and used for offensive purposes.
Angered by delays in the delivery, Tehran has threatened to build its own missile defense system if Russia resists the missile sale.
Iran's elite Revolutionary Guard kicks off three days of

war

games

Thursday, expected to test a range of home-made missiles and other weapons.
The Islamic republic routinely holds such maneuvers to boast its defense capabilities.

By Staff Writers (Spacedaily.com)